Improving Productivity of Nursing Staff
A large hospital chain in the country was keen to improve the overall productivity of the nursing staff. The client also wanted to focus on patient experience and morale of the nursing team.
Challenge
There were considerable challenges in nursing quality, more so in certain specific areas. While patients and a few physicians were unhappy with the overall nursing care at the hospital, nurses felt overburdened with the responsibilities.
Approach
In order to arrive at an in-depth understanding of the activity pattern and the time consumed, a team of consultants from Medium shadowed nurses at different seniority levels – for both ward and ICUs – during their entire shifts for almost two weeks.
This was followed by interviews with Nursing Staff, Nursing Head, Physicians and Senior Management team to understand their perspectives on nursing care. The team also conducted interviews with nurses to understand their pain points.
An analysis of 50 data points across nurses showed that the time spent on direct patient care was just a fraction of the overall time; and direct patient care was limited to medication preparation and administration, sample collection and taking vitals. There were also large pockets of inefficiencies in other activities such as documentation, handover and on-the-job training which consumed significant nursing time. It was also observed that the same activity was being performed by nursing team at different levels.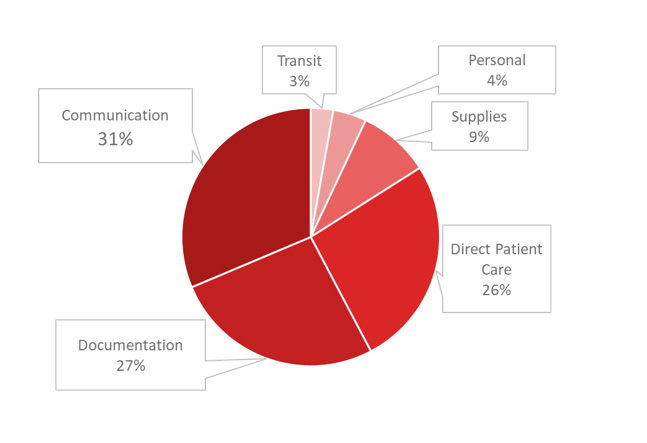 Solution
Streamlining Clinical Activities
Being a critical activity of the overall nursing care, it was analysed followed by redesigning overall processes and resource mapping. This included preparatory activities such as premedication preparation, medication availability at nursing station, medication administration and tracking. This was integrated with the hospital MIS for ongoing monitoring.
Phlebotomy
The overall time for sample collection was quite high, with multiple pricks in quite a few cases. A central phlebotomy team was organized for handling inpatient sample collection. The entire process was redesigned from scheduling to sample collection and test reporting, including managing peak demand. The average time for sample collection per patient was significantly reduced.
Handover and Takeover
Given the inefficiencies in the overall handover and takeover process, a form was designed to ensure seamless handover and takeover without loss of any critical information. In additions, nurses were reassigned to specialties and beds.
Nursing Mix
The existing organization structure was redesigned to create a specialized pool of nurses to deliver better patient care
Training
Overall nursing training program was redesigned to consider existing knowledge gaps. A new training framework was implemented to track behaviour and results from training on an ongoing basis
.Result
Post implementation audit showed marked improvements in feedback on nursing, both from patients and clinical team. In addition, there was an increase in overall nursing satisfaction. The time spent on direct patient care increased by 2x. This also reduced the role of Patient Care Executives in addressing avoidable issues.